Working With Opal
Cutting Opal is a lot of fun!
Opal cutting isn't for everyone, it's quite messy, your hands get cut up often, alot of times you are disappointed, but when you cut a winner it's all worth it and you can't wait to go back and try again.When Opal comes out of the ground, most often it looks like a chunk of dirty rock, nothing important at all. Here is a picture of some dark based opal rough as it looks after it's dug out of the earth.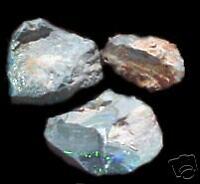 Not very pretty? You would be surprised what that ugly hunk of nothing can turn into under the right circumstances! You take that hunk of nothing and start cutting away at it to find the gemmy opal that is waiting inside. Good quality opal rough that will produce an expensive gemstone is extremely expensive and getting harder and harder to find these days.